| | |
| --- | --- |
| | Nick's Reviews |
ThumbsUp! Boom Box Wireless Speaker
Nick - 24 May 2015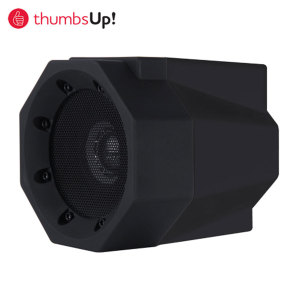 I have recently gotten the ThumbsUp! Boom Box Wireless Speaker. This is supposed to be a speaker that amplifies your phone without wires, without Bluetooth, without WiFi, without pairing in any way. Well, I was just a tad skeptical. And then I tried it!
Truly, you just turn on the Boom Box, and put your phone (speaker down) on top of it. Rich, full sound comes out of it! It honestly doesn't get any easier than that! We were listening at the kitchen table, and I actually had to turn the sound down so we could talk over it. It's also kind of nifty that, when the phone rings, you can just pick up the phone and the sound is muted.
The only problem with it is that everybody wants to play with it. Lifting the phone off, putting it back... it gets to be kind of a pain.
The Boom Box has a rechargeable battery, and a standard micro-USB jack (with cable). A fully charged battery lasts about 10 hours, so plenty of impromptu party time!
The only thing I don't love about it is the skin is a sort of a velvety substance. It's quite nice because you can get a good, solid grip on it, but I leave mine in the kitchen, so it's starting to pick up a bit of grease. But that's not really the device's fault; it's how I choose to use it.
I really was pleasantly surprised by this little gizmo, and I think you will be, too.
---
Back to the list of Nick's reviews
Back to Ask Nick!